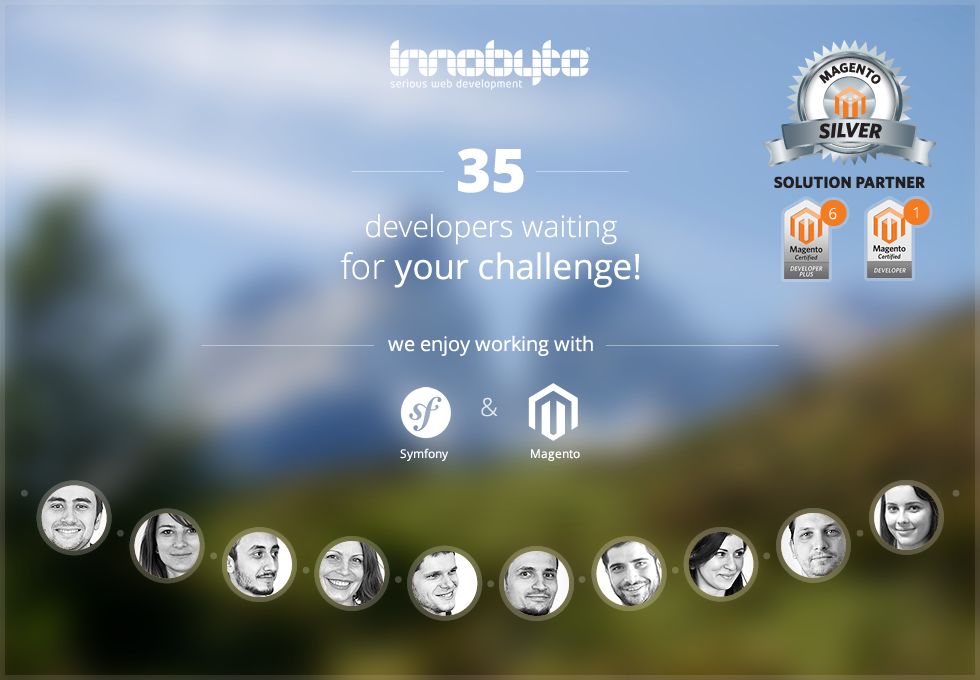 According to latest eMarketer forecast report, the global value of e-commerce sales will increase by 50% in the next 5 years. By the end of 2013, it is estimated that total sales will measure $1.2 trillion. So stay ahead of the trend, and build your online shop with Innobyte!
Innobyte is a premium web development and system integrator company, with an extensive knowledge in developing, designing and maintaining e-commerce solutions. Founded in 2006, the company grew continuously, as a proof of their commitment to serious web development.
Magento, a division of X.commerce, an eBay Inc. company, has become one of the favorite e-commerce platforms worldwide, having more than 150,000 businesses that rely on it. Its highly configurability make it the perfect platform for any online retailer, no matter the size of their product portfolio.
Since 2011, Innobyte is certified as a Magento Silver Solution Partner. The company has a rich portfolio of happy clients, for whom they have developed medium to large e-commerce projects, using the most advanced management and integration tools.
Innobyte wishes to serve also small e-store owners, by developing premium Magento extensions. All extensions can be found on http://shop.innobyte.com/ and on MagentoConnect, the official Magento marketplace.
The CEO of Innobyte, Catalin Somfalean, was available for comment: "We believe that our company's success comes from intelligence, passion and hard work. We aim to help companies develop and improve their e-commerce operations, on both Magento and Symfony 2. We have dedicated teams for each framework, so each project is built by experts. I am extremely proud of the team we have, they are our greatest asset!"
With a team of 35 developers, among which there are 7 Magento Certified Developers and 4 PHP 5.3 Zend Certified Engineers, Innobyte is ready at any time to develop new online retail solutions for reliable clients.
Innobyte offers competitive solutions, as their clients can attest:
"It is a pleasure for me to comment on the excellent software engineering services that Innobyte Team is doing for us. Innobyte Team has provided us with custom software creation, platform porting of existing applications, and active application maintenance. We worked with several development companies in Romania and I can honestly say that INNOBYTE Team delivered us always the right solution on a high quality level in time."- has declared Andreas Sansano, CIO FashionDays.
FashionDays is the largest member-based online store in Central and Eastern Europe, with online shops operating in 6 countries. Since 2009, Innobyte have supported this start-up in its growth, by developing online solutions for every country and managing its daily campaigns.
Check out more details about Innobyte's portfolio and services!