We have to admit that Bulgaria PHP Conference was one of the coolest events that we have attended.
 
There is a lot to discuss in giving a full overview of the event, but we'll try to summarise our experience. The three-day event took place on October 7th – October 9th, in Sofia, Bulgaria, and gathered PHP and front-end developers from all around Europe.
It was a cool mix of interesting speeches, valuable content, games (a lot of games), networking and beer 🙂 This year's theme was "Game on". This brought an interesting vibe to the event, starting as an encouragement for the participants to get the most out of Bulgaria PHP Conference, and inspiring  them to take home the "Game on" attitude. Well, the organisers did their homework, as they knew that the old school gaming style will touch the developers' hearts.
Content and information
When it comes to development, we are serious and devoted to continuously learning about things that we are passionate about. We attended some sessions at the conference which caught our attention. It's always a privilege to hear inspiring ideas from major industry players such as Jeremy Mikola, Jordi Boggiano, and Michael Bodnarchuk.
Even though we live and breathe technical stuff, we were curious about two non-technical sessions, and they turned out to be quite engaging. One of the most interesting topics was about paradoxes and theorems, and how they can be used by programmers in the development process, in order to find solutions easier. Another interesting topic was "Exploiting the Brain for Fun & Profit". Alena Holligan explained how the brain works and she shared some tips on how to sleep and rest better.
Give a developer a good game and you'll keep him busy for a couple of hours
The organisers managed to create a special place for those who love to have fun, and for the old school gaming enthusiasts. There were a lot of relaxing corners dedicated to classic arcade and video games. We tested few of them. It was also a good opportunity for networking. By the way, do you remember Tetris? That game is addictive!
JeoPHPardy  
Jeopardy! is a classic game show, created by Merv Griffin. The show features a quiz competition where the answers are given first, and the contestants supply the questions.  Bulgaria PHP Conference held its own version of Jeopardy, hosted by Jeremy Mikola, where all the questions were PHP related. Even though we didn't participate, it was fun to watch, as the moderator managed to make the game fun.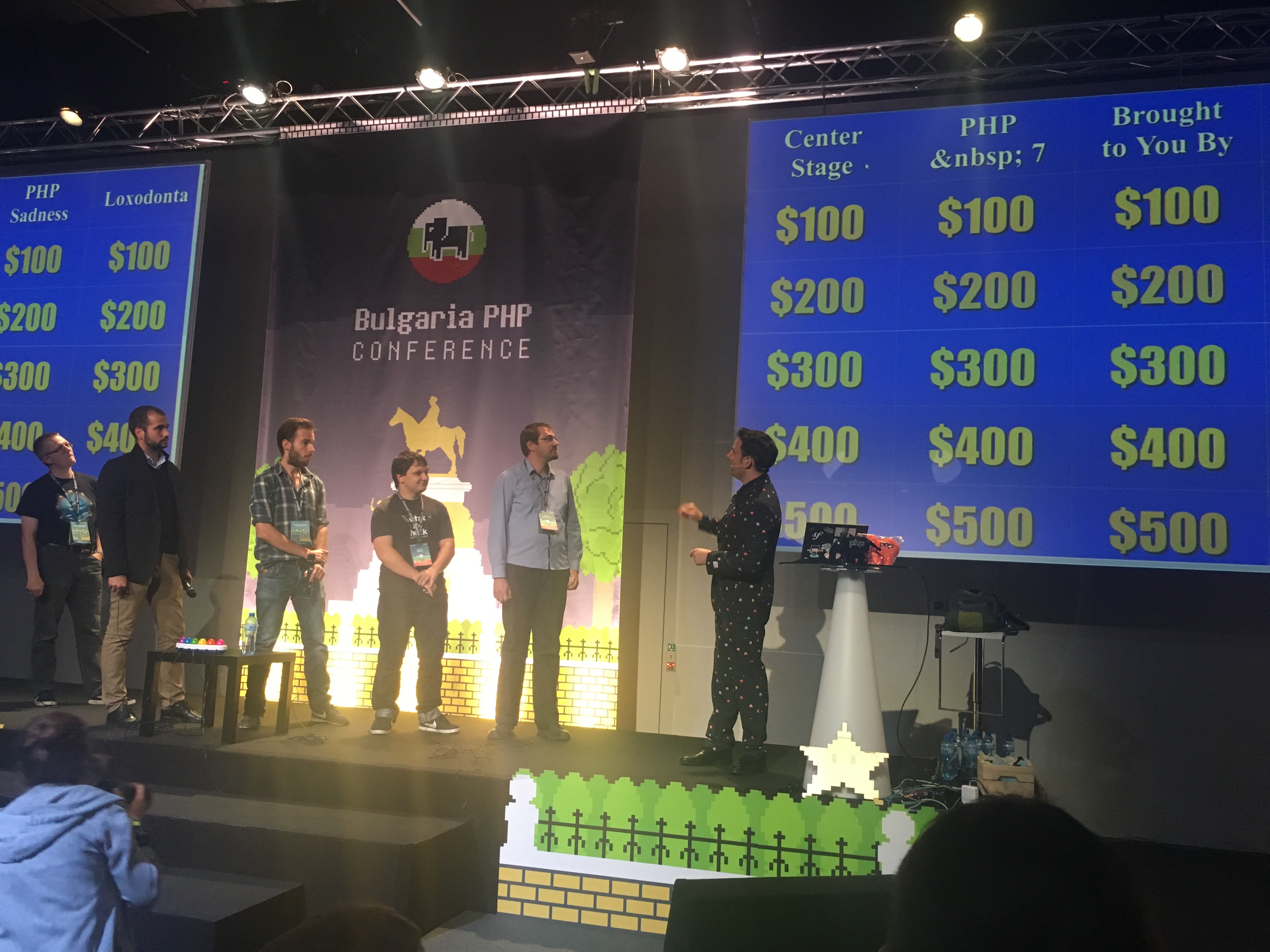 The hackathon and the after party
What's a fun and challenging developers' gathering without a hackathon and a party? Well, the organisers didn't want to let us go home without an answer for this question. Yes, there was a hackathon, and of course, a great party. Both were fun and well organized.
"After two days full of presentations, all I can say is that the organizers did a great job. I recommend this event to all programmers, especially for juniors. First of all, because it is focused on PHP and you can learn specific things.  Secondly, the presentations address some of the most common situations from a programmer's life, and you, as a junior, didn't have the chance to deal with them. I learned at least one new thing from each presentation, and besides the technical ones, I attended a few interesting non-technical presentations.
In the end, I would like to congratulate the organizers. I hope I'll be there next year because this conference didn't let me down."
Cristina Ion, Web Developer
If you missed the event, we have some "goodies" for you. Take a look at these resources:
Well, that's all folks. Now that you know our opinion, you don't have to take our word for it. See you next year! 🙂