Innobyte supported the European Space Agency for the development of the European Space Software Repository (ESSR), an ESA information web portal that promotes reuse of Software including Open Source Software, and provides all parties involved in European Space software development access to the results of previous investments.
The European Space Agency (ESA) is an organization that uses specialized software, which in most cases is custom-built by its contractors, or ESA itself. Being a public body, ESA provides its software to interested parties using different ways of licensing, including open source. The most popular ESA software packages are observation data processing and visualization toolboxes, which make the Earth and space observation data more accessible to international research in biology, meteorology, geology and other sciences. The ESSR presents different cases of software reuse provided by ESA, with special attention to the most popular open source software packages that are being reused in several circumstances throughout the world.
"Innobyte team is proud to take part of this exciting journey that started in 2014 through the partnership with European Space Agency and that latest technologies have now an open road to small and medium companies from the European Space Industry." Catalin Bordei, C.O.O. and Member of the Board, Innobyte
The ESSR web portal contains a list of projects, search function and blog functionality among others. Most projects are owned by ESA and contributions are handled by ESA internally. However, non-ESA owners can request, through the tool, to have their project added by filling a form. The resources of the European Space Software Repository can be accessed here http://essr.esa.int/.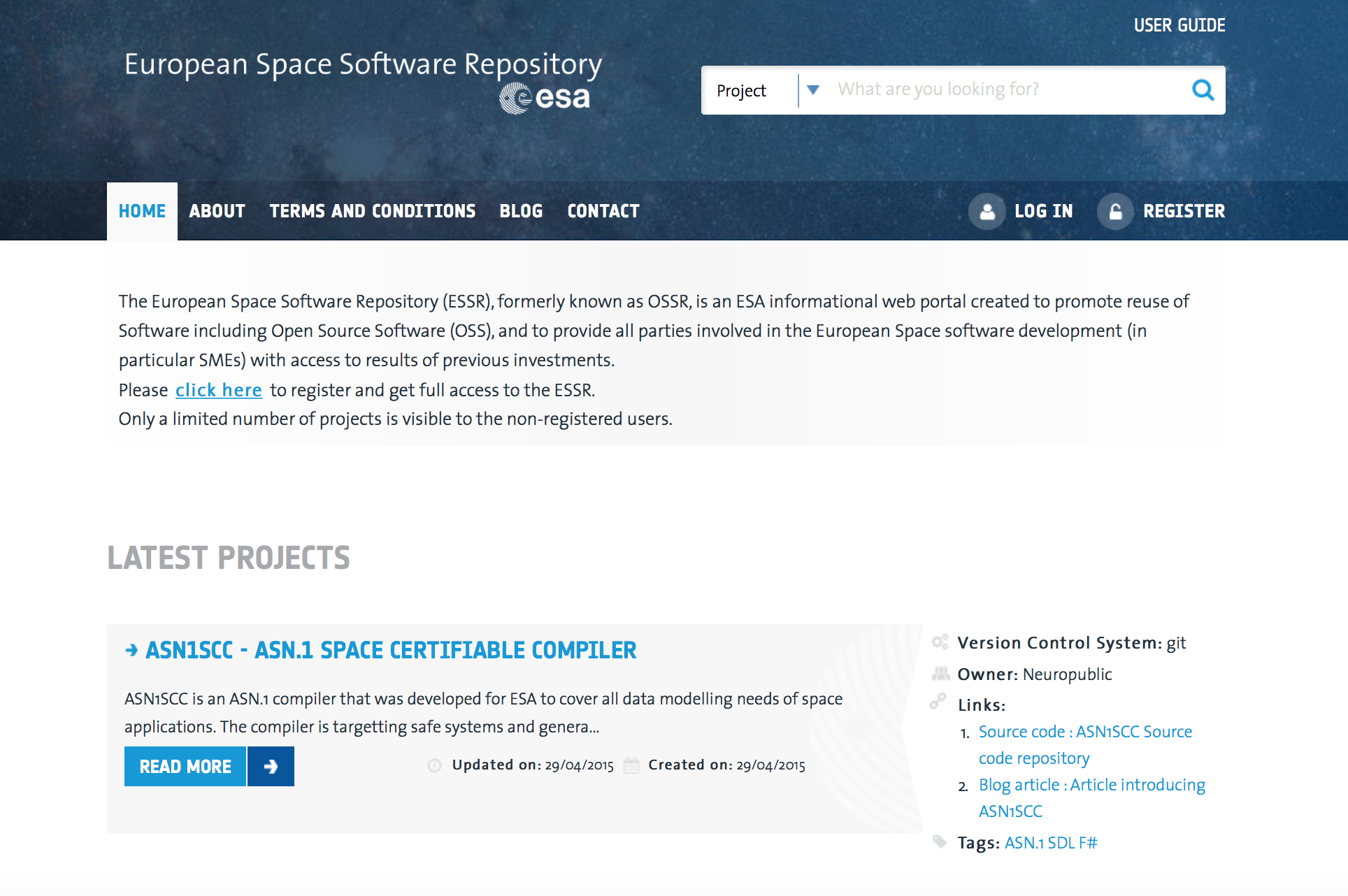 "We have chosen Symfony2, a modern framework, which is mature and stable enough to be safely used in production for the development of this project, one that needed strong maintainability and structure. We needed a very powerful system for this web application, allowing the presentation of the website to be dramatically changed without any code modification. The modules featured facilitate the adding of highly customizable content, which is very necessary for the dynamic field of space industry and, with a team of senior web developers we were able to provide a platform that serves the informational purpose of the project". Florentina Petcu, ESA Project Manager, Innobyte
Several technologies were used to implement the functionalities of the project, out of which we would like to mention: Symfony, ElasticSearch, Compass, jQuery, jQuery UI, relational databases and agile software development. These allowed developers to create a highly secure and maintainable application that is also easy to control and manage by the administrators while it provides the best user experience for its visitors.
"European Space Software Repository is a web portal to promote reuse of the (open-source) software and to provide all parties involved in the European Space software development (in particular SMEs) with access to the results of previous ESA investments in the software development. Innobyte has been carrying out the portal implementation for ESA. Working with Innobyte was a great pleasure: they are very productive, very responsive to the customer needs, are straight to the point and have high level of flexibility. Their technical expertise is excellent." Jakob Livschitz, Technical Officer of the ESSR Project