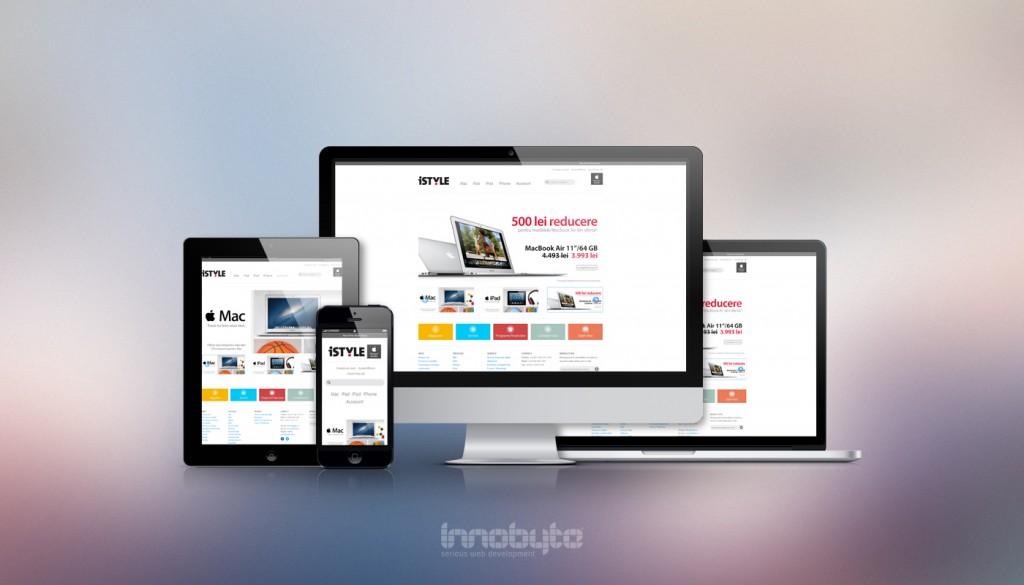 13 September 2013, Bucharest – iSTYLE, Premium Apple Reseller in the CEE region, has launched its new responsive design, developed by Innobyte.
Innobyte has developed the new design of iSTYLE's online stores, thus bringing the shops' identity closer to Apple and improving online shopping experience for customers. This design was implemented in all 9 of iSTYLE's online stores (Bulgaria, Croatia, Czech Republic, Hungary, Macedonia, Romania, Serbia, Slovakia and Slovenia) by Innobyte, a serious web developer of e-commerce solutions.
The new responsive design helps users navigate flawlessly, no matter the device they are using (desktop, laptop, tablet or smartphone), being an infinitely scalable solution. It is composed of a series of flexible grids and images that allow rapid alignment of content, taking into account the user's display resolution.
"The new design looks really nice, we're very happy with the results. It is a cutting edge website, raising iSTYLE to the level the chain deserves to be. It is a pleasure working with Innobyte!", commented Gábor Galgócz, Project Manager, Online Sales, iSTYLE.
Innobyte developed an aesthetic and vivid graphic interface that puts into the spotlight Apple's products. Browsing the new iSTYLE is very pleasant, as Innobyte's team has strategically used colors to raise interaction on certain key-areas. The new design works very well with the website's technical functionalities, built by Innobyte on Magento Enteprise platform.
 "Beside the fresh look of the website, the biggest advantage is the adaptability of the website for all mobile devices. Responsive design is a must these days and iSTYLE is now on a path of increasing online sales on the fastest growing platforms, mobile devices.
Here, at Innobyte, we develop most of our projects using responsive design in order to bring our partner shops closer to their customers, whatever device they are using.", has added Cătălin Bordei, COO Innobyte.
The new iSTYLE web stores design is optimized also for Retina Display and touch terminals.
Take a look at the new iSTYLE: http://www.istyle.eu/