Who gets up very early goes to… ZF Mobilio! The second day of the conference was about "mAdvertising, mShopping, mPayments" and was structured in 5 pannels.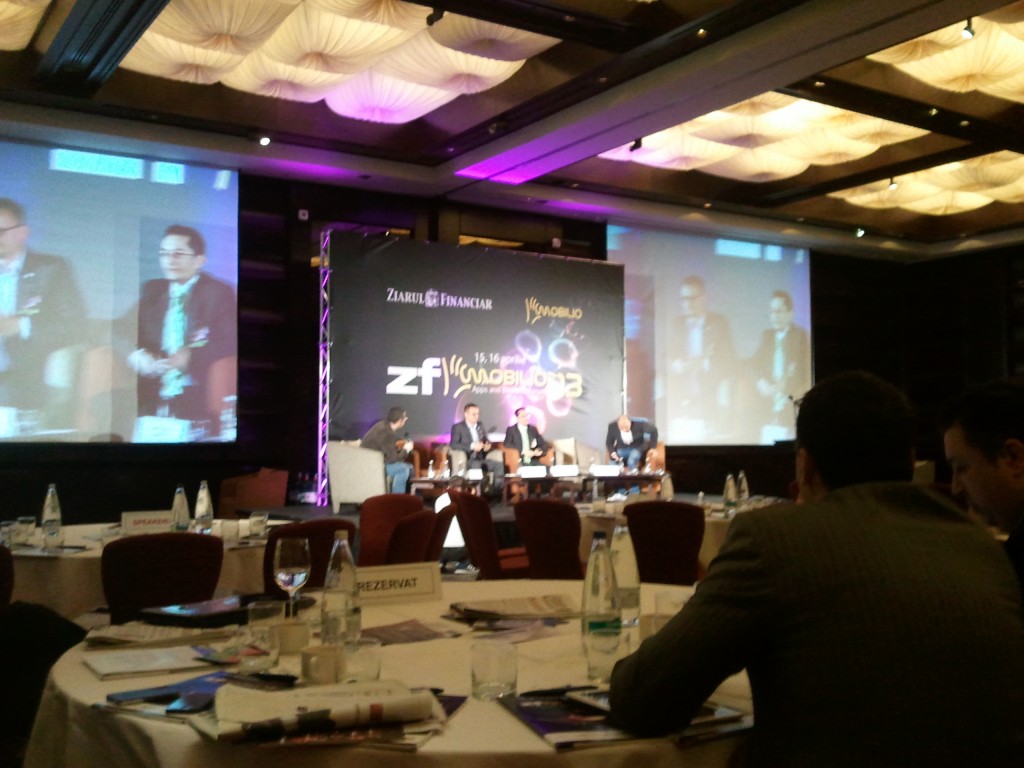 The first panel was an debate between Telecom operators. We found out that Vodafone Romania aims to educate the Romanian telecom users into using mobile apps. Vodafone has registered over one million downloads of its mobile apps. Ovidiu Paraschivescu, Smartphone & Internet on Mobile Lead at Vodafone România, told us that the bible of a mobile apps developer must be written based on the feedback he/she receives from its users.
We found out more about the apps they are proud of, among which I really liked the Salvamont app.
About Cosmote and its market strategies we found out from Bogdan Țibrin, Data & Handset Development Manager. Their apps are available only to Cosmote users and people who get connected to the Internet via Romtelecom WiFis. RadarMe caught my attention – it is an app that you buy access to only for a limited period and it will help you navigate with guidance  in Europe (I thought it would be useful for people who go on holiday in Austria, for example, for a week and need driving guidance).
The usage of mobile aps prove the necesity of an Internet data package. In Romania, people usually use their smartphones to read their e-mails and news.
It appears that Apple is seen as the "maximal reference", when it comes to apps. Vodafone believes that the future is given by the clients' preferences. They also noticed that, in Romania, you can reach success by developing niche applications. Cinemagia, for example, has 500,000 visitors per month, on average. Still, an app should not stand alone, but it should be interconnected with others. Vodafone aims to create an ecosystem for apps.
In the second panel we discussed about "How to make my first million from apps". Andrei Pitiș, Angel Investor brought to our attention an interesting question: how do you value one million? We're talking about the potential of a business, not about its actual value. His advice for us is to start early, when we first have the idea (or a Power Point to present it). A partnership with a big TELECOM player can influence a lot the evolution of an app.
Blackberry wants also a piece of our pie. They said that the gains from developing Blackberry apps are in a direct relation with the invested effort (it usually takes one day to transform an Android app).
Microsoft's representative told us that there are already 60 millions of Windows 8 licenses bought – a big market to be exploited!
We also found out Voucherry's philosophie: "we make money out of good deeds". They believe that an app should be an extension of an existing business. If an app manages to solve a real problem, then for sure you will find users to pay for it.
The third pannel had the theme "Mobile Shopping- a new revolution".
Doina Costache, Google's nomofobe, brought to our attention several interesting videos:
Do you really know the full value of mobile? We also had a Google Hangout with Ian Carrington, Director Mobile Solutions at Google UK. We found out that half of Germany's population owns a smartphone. And about the mobile versions of online websites… we were told that who doesn't have one, will loose. Need I say that I know somebody that does terrific mobile websites? 🙂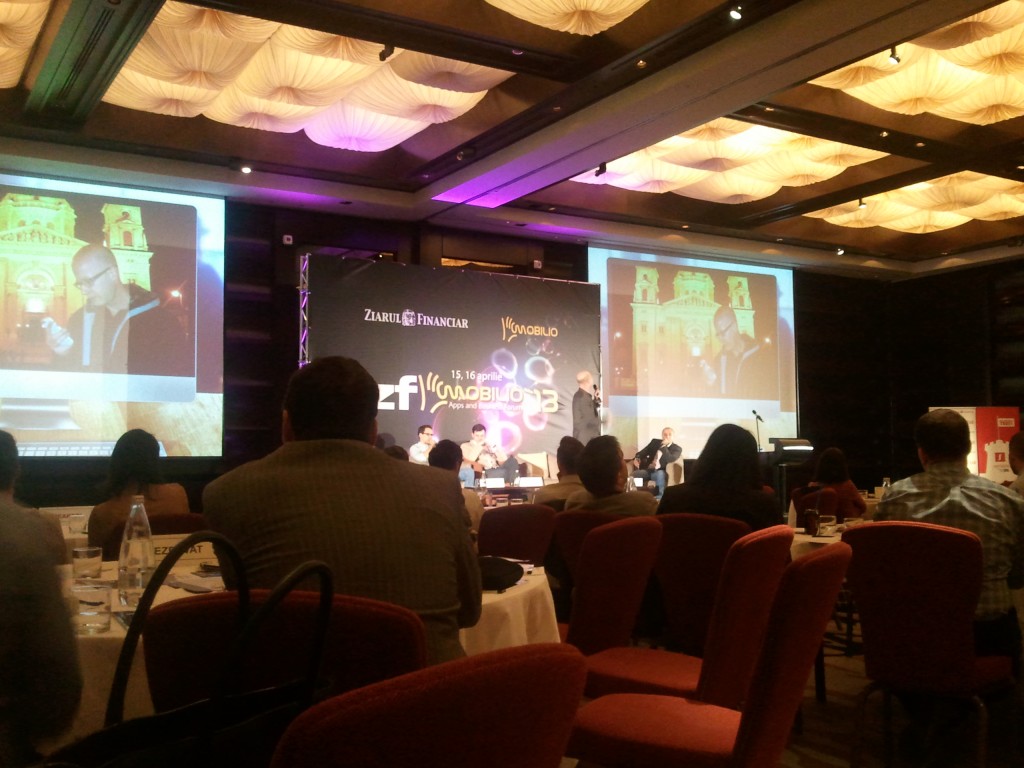 The conference could not end without awarding the best Mobile Apps developed by Romanian companies. Taking into account the level of Creativity and Innovation, Graphic Design, User Experience, Functionality and Results of each application, the "Mobilio Awards" Gala had the following winners: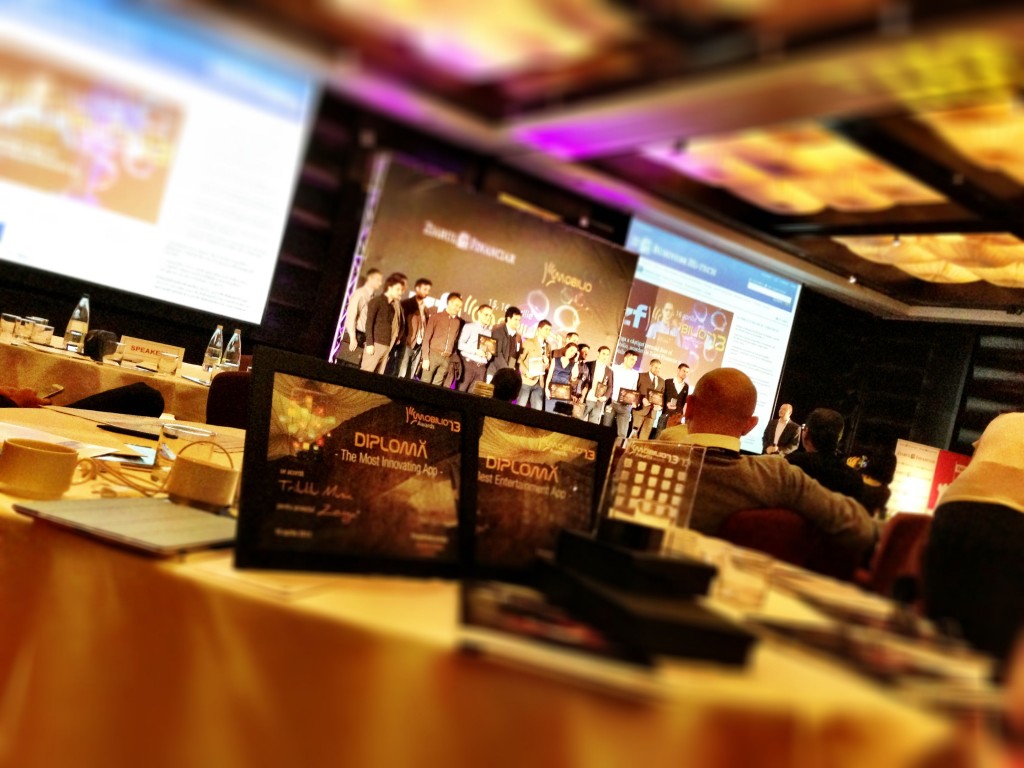 1. Best use of Location Services – Bronze: i-rewind; Silver: getlokal; Gold: Auto.ro
2. Best entertaimnet App – Bronze: orasulmeu; Silver: Les 3 Vallee; Gold: Zonga
3. Best game – Bronze: Photogotchi; Silver: Fănică şi asaltul microbilor; Gold: Ninjaku Training
4. Best Use of Mobi advertising – Bronze: Prim Ajutor; Silver: iLOK8 Metro; Gold: Wallet Buzz
5. The most innovating App – Bronze: Clever Taxi; Silver: i-rewind; Gold: Zonga
6. Best Mobisite – Bronze: BestJobs.ro; Silver: Lectia de Prim Ajutor; Gold: Hotnews mobil&tablet
We send our best to all of them and hope that next year we will be one of the awarded companies 🙂