A few days ago we went to Cluj, for the third edition of Magento community gathering in Romania. It was, for sure, everything that we have expected. This year's edition had an impressive list of speakers and we got the chance to get insights from the best in the field. We had a great time at the event and we thought sharing our experience and some information from the technical talks with you.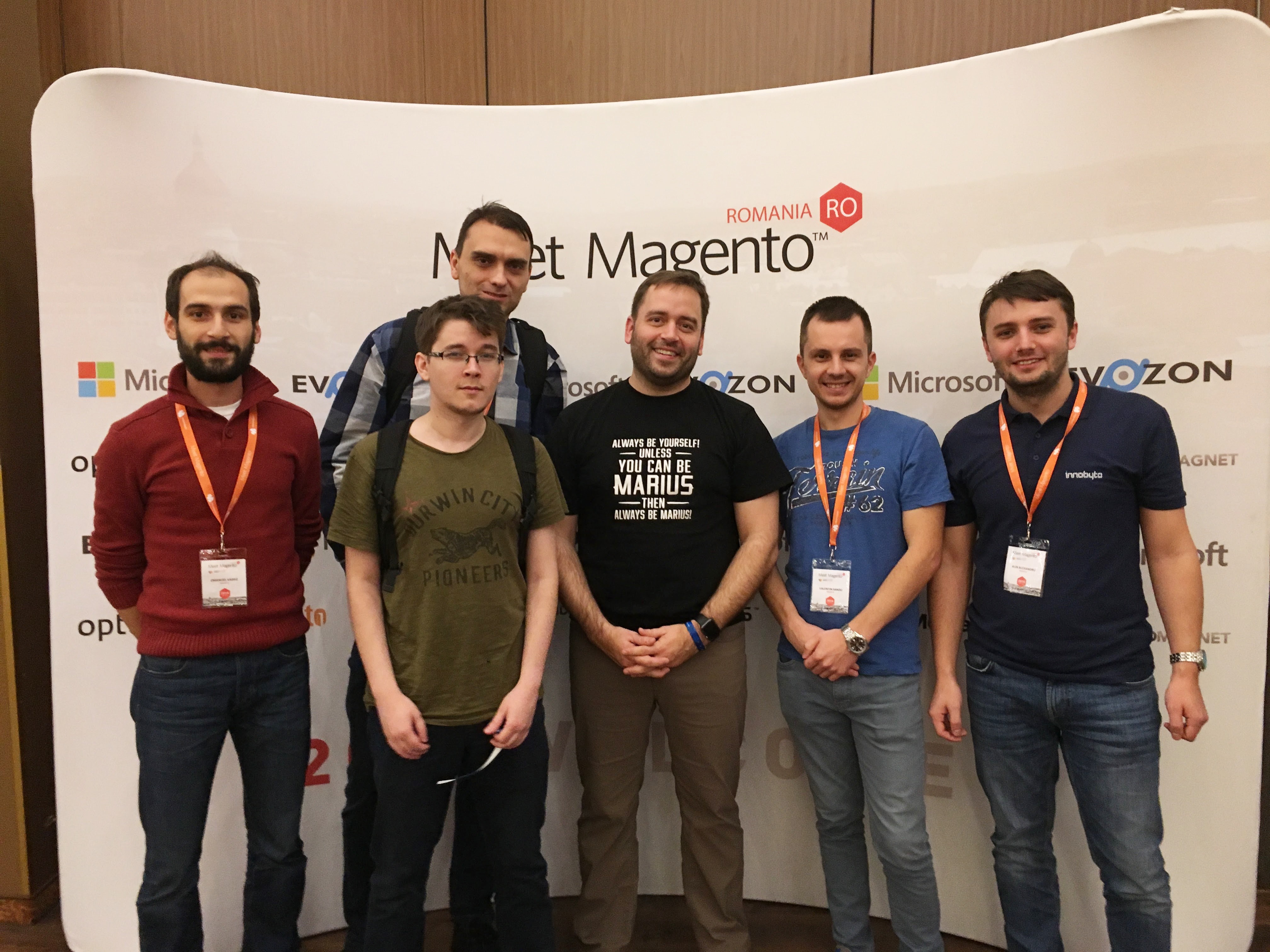 The two-day event was organized at Grand Hotel Napoca, in Cluj. As usual, there were two tracks covering key topics for Magento interested parties – developers and business. However, this year the developer and the main track were both organized in the same conference room. That brought more space and more seats for those who attended the speeches.
The Main & Developer Track started with some interesting talks on the community contributors' role in making Magento one of the most responsive and extensible platform, success stories, new open source initiatives, and insights into the development activity.
Ben Marks, the Magento Evangelist, won the audience with his presentation on moving Magento 2 forward and what needs to be done in order for the developers to adopt Magento 2. Ben also officially announced that the end of life date for Magento 1 will be in the fourth quarter of 2018.
Another cool moment was David Manners' talk, "Don't be a git", which was more like a mini theatre play. He managed to make a fun moment from the play, while still explaining things clearly. The actors played the role of git branches and the conflicts between them. Of course, there was a happy end where all the conflicts were resolved and the branches reconciled. We learned from David some new git commands, such us git rerere (reuse recorded resolution). This command assists the developers in recording resolved conflicts and use the recording to resolve future conflicts.
Anna Völkl reminded us to ensure that the entered data into a website should be validated, during her "Secure input and output handling" presentation. She gave us an example on how to define a new validation rule in order to expand on those present in Magento and Zend respectively.
Vinai Koop explained that it's ok to use unit tests for new code lines, but for existing code, it's better to use integration tests. If you want to learn how to write integration tests, you'll find this useful: mage2katas.com.
Volodymyr Kublytskyi talked about Magento Presentation Layer. For a good performance and convergence to current standards, he added that it's important to write the layer correctly. He told us that Magento supports ESI (Edge Side Includes) which allows servers to take full advantage of Full Page Cache, allowing, at the same time, a dynamic content in specific blocks on your page. Later on that day, during a networking break, Ben Marks told us that the direction they are going with this layer is using mostly knockout.js. Meanwhile, the conventional way of using and declaring phtml templates remains, but it's not mainly recommended.
Miguel Balparda presented us a few interesting performance charts for Magento together with different php versions, with or without Varnish. Of course, php7 with Varnish brought the best results.
Marius Strajeru featured an interesting (and one of the funniest) presentation on how to build the best "worst Magento extension". Obviously, it's better if you don't. Another great presentation was held by Fabian Scmengler, who explained, step by step, how he ported their Solr integration from Magento 1 to Magento 2.
The second day started with the presence of 7 Magento masters and staff members, who exposed their own point of view, approaches, and experience on working with Magento over time. The event ended with a workshop. We simulated various exploits of vulnerabilities in previous versions of Magento, and we looked for solutions to eliminate them.
As you can obviously see, we didn't say anything (yet) about the After Show Party. Unfortunately, we can't describe in words the good vibe, the music and the happy faces. As we've said before, what happens at Meet Magento's parties, remains at Cluj and in the memory of everyone who has attended. Still, you can take a look at the official photos from the event.
If you didn't have the chance to attend Meet Magento this year, here are a few presentations from the event:
In the end, we want to congratulate the organizers and the speakers. They all did a great job in making Ro Meet Magento such a cool and must-attend event! Looking forward to the next edition!