As we are very interested in mobile apps development, this conference has captured our interest right away. We decided to attend it, as to have a clearer vision on the current state of Romanian apps market and future industry trends.
The first day topic was "Operators, Publishers, Developers and last but not List… Clients businesses". The conference's moderators were Adrian Seceleanu, Editor Business Hi-Tech from Ziarul Financiar, Cosmin Pachiu, PM Mobile Department & Special Projects from Mobilio.ro and George Buhnici, iLikeIt.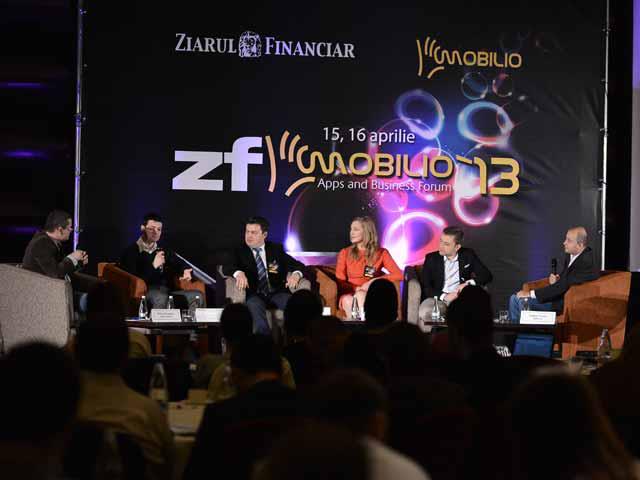 We have started our day by listening to the trends of new technologies and content usage, presented by Andreea Coca, Research Consultant Qualitative Research, Gfk Romania. We are the Digital natives, always surrounded by technology, using mobiles as an extension of our knowledge and life experiences.
Romanians have spent 250 million euro on smartphones in 2012, with an increase of 37% compared with the previous year. The tablet sales were valued to 66 million euro. Still, they spent less than one million euro on apps.
When it comes to online TV shows, we have the following data:
Phone: 5 minutes
Tablet: 9 minutes
Laptop: 29 de minutes
Smart TV: 43 de minutes
We can say that a bigger screen improves the consume rate.
Between 2010 and 2011 it has been registered an increase of 86% of the value of online shopping. In 2012, total sales were of 25 milliard dollars. For 2016, Gfk estimates total sales in Romania of 86 milliard dollars.
As for payment for accessing video content, Romanians prefer to pay by sms, rather than PayPal. For example, in Voyo.ro's case, 65% users pay by SMS.
We also found that that there are 1,8 millions of mobile apps developers worldwide.  Innovation and finding the right niche are basic conditions for surviving.
Alexandru Drăgoiu, GM eBoda, told us that tablets encounter drastic changes every year –compared with PCs. eBoda's policy is to not pre-install apps on their tables, because of Google's policy to find anything, anytime on the marketplace. Pre-installed apps would also increase the final cost of a tables and that is definitely not what their customers want.
Dan Bulucea, Country Manager Google Romania, talked about the needs that made the tablets so popular. We wanted mobility, access to cloud and interactivity (with friends and family).
We usually use the devices that are close to us, in our current location. Most of the devices become useful to their owners because of the apps they have installed on them.
eBoda has noticed an increased interest for tablets with 3G and screen of 7-8".
SERIOUX, another Romanian brand that attended the conference, showed its interest in the multiple devices that you can connect to a TV. They estimate that in 2017 there will be more tablets than PCs.
The TV seems to be an important trigger for search: people see ads, news on TV and they want to know more about them.
An interesting present had Monica Lupascu, Lawyer at Cyberlaw.ro. She told us about the legal processes that need to be made when building a mobile app.
On our shortlist:
Don't work without a NDA;
All trademarks should be registered;
Keep your users privacy rights;
Don't forget about your stakeholders and collaborators rights;
Protect your consumers.
Photo source: Zf.ro